You may have thought that all dentists were the same, but dentists can have varying specialties. In the past, dentists would perform nearly all treatments regarding your teeth, but now, dentists often choose a career specialty. One of the specialties dentists might choose to do is cosmetic dentistry. If you have ever wondered what cosmetic dentists are and what they do, here is a brief explanation.
About Cosmetic Dentists
Like doctors, dentists have to undergo extensive training. They must go to college and obtain a bachelor's degree. Dentists must pass a dental pre-program test called the Dental Admissions Test (DAT). Dental school takes four years to complete, then followed by a three-year residency. During their residency, dentists can specialize in pediatric dentistry, restorative dentistry, and cosmetic dentistry.
What Kinds of Procedures Do Cosmetic Dentists Do?
There is one important distinction between a cosmetic dentist and an oral and maxillofacial surgeon. Oral surgeons often deal with complex issues within the mouth and jaw, and also focus on fixing mouth injuries due to an accident or injury. The focus of cosmetic dentists is on the teeth and gums and making them as beautiful as possible. Sometimes, this involves surgical procedures.
What Are Some Examples of Cosmetic Procedures Cosmetic Dentists Do?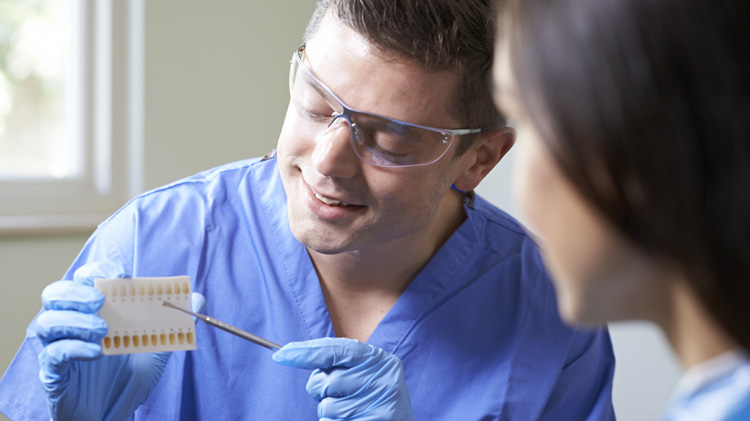 Here are some examples of procedures cosmetic dentists can do.
Teeth Whitening
One of the best-known procedures that cosmetic dentists perform is teeth whitening. Over time, especially if you smoke or drink, your teeth can become stained. Your teeth can also become stained due to age or from foods (like berries) you consume. While you can whiten your teeth gradually at home, many people don't have time to whiten their teeth gradually, especially when they have a special event coming up. Cosmetic surgeons can whiten your teeth quickly with bleaching trays. They can also use lasers to whiten your teeth quickly.
Smile Fixers
Cosmetic dentists can also fix your smile. Many adults suffer from chipped, cracked, or broken teeth. They become so embarrassed about their smiles that they don't want to smile, laugh, or even eat food in public. Cosmetic dentists can use several techniques to fix a smile that is less than stellar.
If you only have one or two cracked, chipped, or broken teeth, you may want to opt to have a cosmetic dentist place a crown over your chipped tooth. Crowns are made with a layer of metal and a porcelain overlay. The metal protects your tooth, and the color of the porcelain will match your smile. Crowns can also be used to cover a discolored tooth as well so that all of your teeth are a beautiful, pearly-white.
However, if you have a lot of teeth that are discolored, broken, cracked, or chipped, you may want a cosmetic dentist to place veneers on your teeth. Veneers are thin covers made from porcelain that fit over your natural teeth. Veneers are also a great choice if you have teeth that are poorly spaced or crooked. Cosmetic dentists can place veneers to make your smile look perfect. Most veneers will last–if you take care of them–up to 12 years, so they are a great investment for your smile.
What if you only have a small chip in one of your teeth, or you have a wide space between your two front teeth? Cosmetic dentists can use dental bonding to fix these minor issues. Dental bonding works much the same way as filler or spackle does in homes. The bonding is placed on a tooth and hardened with a light or a laser. The results are amazing, and no one will know you've had bonding placed on your teeth.
If you have a lot of crooked or poorly spaced teeth, cosmetic dentists can use clear aligners to straighten out your smile. With clear aligners, you can work on your beautiful smile without anyone knowing.
Reconstruction
Sometimes, after your mouth has trauma from an accident or an injury, you need restorative procedures done to restore your smile. Many cosmetic dentists practice restorative procedures. One of the most common restorative procedures is dental implants. Dental implants act much like your natural teeth. Dental implants are prosthetic teeth attached to metal posts–usually made of titanium–that are screwed into your jawbone. You can have one tooth replaced, several teeth replaced, or all of your teeth replaced using the All-On-Four technique. Once you have your implants, you will be able to eat hard-to-chew foods again, such as steak and corn on the cob. Your smile will also look uniformly white and gorgeous. Restorative dental practices are some of the most rewarding work that cosmetic dentists can do.
When you're looking for a great group of dentists in the Naperville, Illinois, area, you need to look into the dental services at Comfort Care Family Dental. The group of dentists has dental practitioners that focus on cosmetic dentistry as well as general dentistry. If you need a cosmetic dentist, why not set up a consultation at Comfort Care Family Dental today?